Sonya (ソーニャ Sōnya?) is a character in Kill Me Baby. She is Yasuna and Agiri's friend and classmate.
Appereance
Edit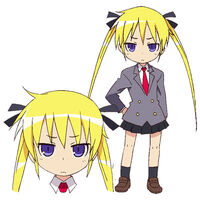 Sonya is a high school girl. She has citrine blonde hair tied into twin tails and lavander/violet eyes. She wears a high school uniform and black hair bows. She has fair skin.
Biography
Edit
Sonya is a foreign trained assassin attending a regular girl. As she constantly takes on assassin work she is constantly alert and often attacks Yasuna when she takes her by surprise or tries to play jokes on her. Despite her tough composure, she is scared of various things such as cockroaches, ghosts, wild animals and dogs.