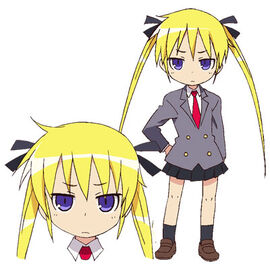 Sonya
is a character in "Kill Me Baby."
Appereance
Edit
She has a blonde hair tide into twin tails and blue eyes.
Sonya is a foreign trained assassin attending a regular highschool. As she constantly takes on assassin work she is constantly alert and often attacks Yasuna when she takes her by surprise or tries to play jokes on her. Despite her tough composure, she is scared of various things such as cockroaches, ghosts, wild animals and dogs.
Voiced by: Mutsumi Tamura (Japanese), Luci Christian (English)